Crown & Heart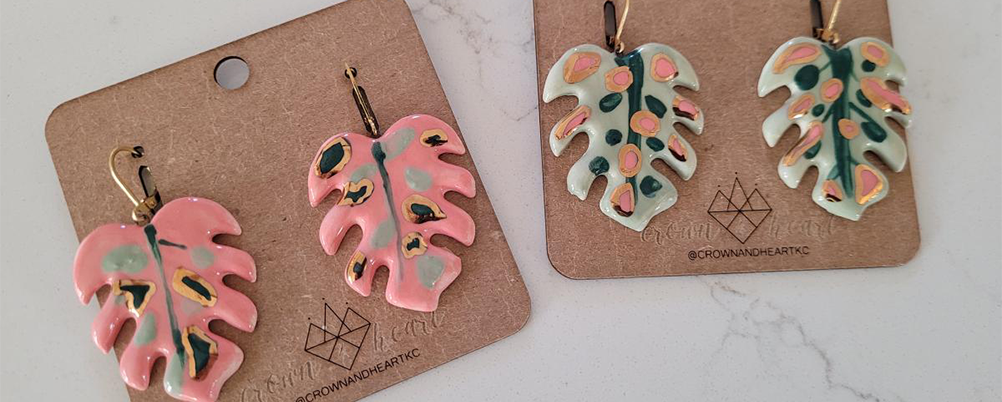 Hi. I'm Sara Kharatyan, the owner, designer, and maker of Crown & Heart. I live in Parkville, a suburb of Kansas City, Missouri. My husband Arsen is an architect and together we have two boys, ages 3 and 5.

I started this business in the summer of 2017 after finishing my 8th year of teaching as an elementary school art teacher. Teaching had been my dream job for many years, but after having children of my own, I began to experience some burnout. I was putting all my creative energy into my job and came home too drained and unmotivated to work on my own artistic projects. I desperately needed a creative outlet that would satisfy the artist in me.

I began to experiment with some ideas for a new creative endeavor. After transitioning into motherhood, my wardrobe had changed to a much more minimalist style, a big change from my previously colorful and creative outfits. I wanted an easy way to add color, texture, and interest to my outfits without spending more time getting dressed or shopping. I decided to make some whimsical and modern jewelry pieces for myself. Ultimately I decided on ceramic and specifically porcelain because it is white and lightweight, and I began to make some test pieces. I had never made a piece of jewelry in my life, so the process of assembling my designs took a lot of trial and error.

By total chance, I visited a local indie craft fair called Strawberry Swing just after I began this new project. I was so inspired by all the artists and makers at that fair and the people who were there to support them. I was impressed by tent after tent of professional looking set-ups and high quality products, all made in Kansas City. This experience was really motivating for me, and I decided that I wanted to make my own creative project into a business as well.

After two years of refining my art, I was able to make enough progress to transition to part-time teaching. This has allowed me to experience balance: every day I'm able to feed my passion for teaching, my passion for making, and my passion for family without feeling burnt out. I am so thankful to my family, my fellow makers, and all my customers who have supported me along the way and allowed me to live this life of balance.

My hope is that my jewelry will bring joy to those who wear it. While some are neutral and others are colorful, they are all whimsical and modern. My pieces make a statement, but they are also timeless. Each piece of porcelain is hand formed by me, hand painted by me, and assembled by my in my home studio. It is truly a labor of love from start to finish, and I hope you enjoy your wearable art as much as I enjoy making it.