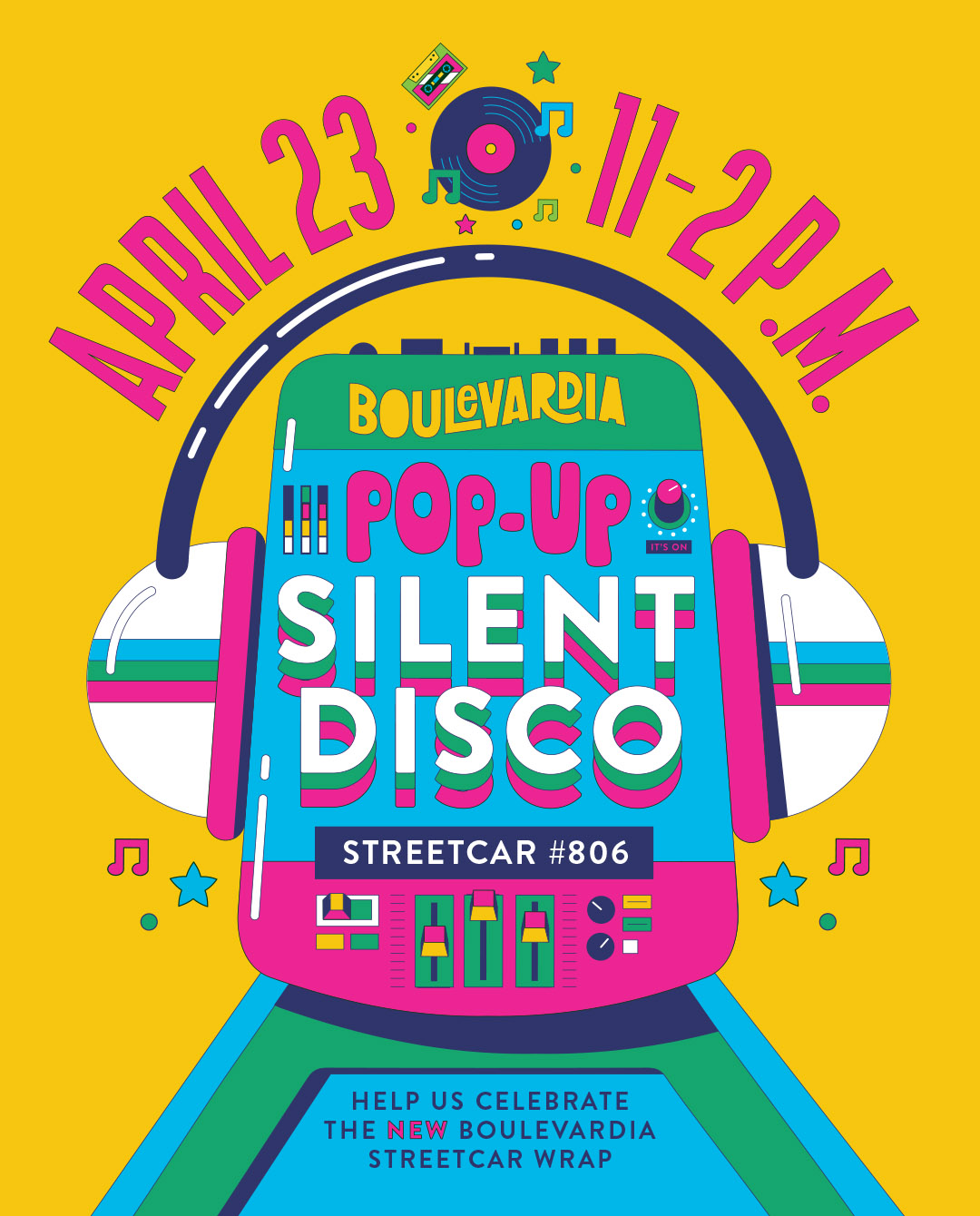 The KC Streetcar and organizers of Boulevardia are excited to announce the first ever pop-up silent disco taking place on the streetcar on Saturday, April 23. DJ Joe will be on board as the KC Streetcar unveils the Boulevardia branded car to generate plenty of energy and excitement leading into festival season.
The pop-up party will take place from 11 a.m. to 2 p.m. and all streetcar riders are invited to join the fun starting at the River Market north stop on streetcar #806. Volunteers will hand out wireless headphones to all streetcar riders who wish to participate in the silent disco, or riders may simply ride along and watch the party, which can be just as fun.
"We are proud to partner with the KC Streetcar and the Missouri Division of Tourism as we continue to build excitement for Boulevardia's return this June," said Trever Frickey, Boulevardia president. "We are excited to bring the festival to Crown Center in downtown Kansas City this year and hope streetcar riders enjoy the branded car throughout the next few months."
In addition to the Silent Disco streetcar event, Boulevardia is also partnering with several local record stores in honor of Record Store Day to give shoppers the opportunity to win two Proper Cannabis VIP passes for the fest on Saturday, June 18th, when they visit Josey Records, Mills Record Company, Revolution Records, Sister Anne's, or Vinyl Underground on April 23.
Learn more about the pop-up silent disco party here and track the exact location of the Boulevardia streetcar #806 at any time using this free tracker.
About the Missouri Division of Tourism
The Missouri Division of Tourism works to showcase Missouri experiences through compelling storytelling to inspire travel, support healthy communities and strengthen the state's economy. In fiscal year 2021, Missouri welcomed 33 million visitors and saw a $13.5 billion economic impact in the visitor economy. Learn more at VisitMo.com.
About Boulevardia
The two-day urban street festival is June 17 and 18 in downtown Kansas City, Missouri., near the intersection of Pershing and Grand Boulevard, encompassing Crown Center and Washington Square Park. The event features a craft beer and food sampling experience and music from local, regional and national acts, as well as interactive activities, entertainment, and shopping, all in a unique urban setting. Learn more about the nonprofit festival at Facebook, Twitter and Instagram.